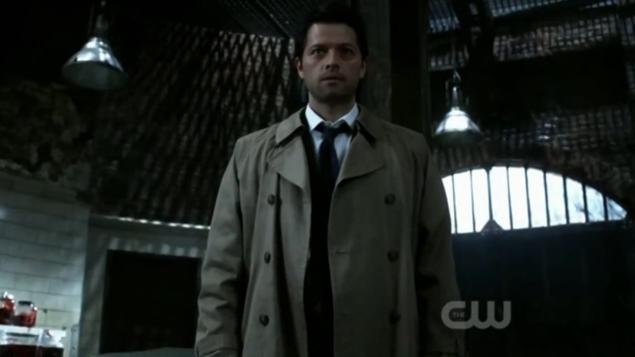 Mιλάει για τον Κας της 7ης σεζόν!
"Supernatural" fans were sent into a bit of a tailspin at the end of Season 6, when the fan favorite character of Castiel took a dramatic turn toward the dark side and actorMisha Collins' role was reduced from series regular to guest star status.

At Comic-Con, executive producer Sera Gamble was coy about Castiel's involvement after the first two episodes, and Collins is not currently contracted for any further appearances.

We spoke with Collins at the Television Critics Association party on Wednesday night, and he helped to shed some light on Castiel's current point of view. "I'll spoil this right now for you -- he does start the season as both a wrathful and vengeful god," Collins says. "But he's also righteous, in his own mind. He thinks that he's doing the right thing."

In the Season 6 finale, Castiel brought down the "wall" in Sam's (Jared Padalecki) mind that protected him from his memories of hell, destroying Sam's mental health in a way that's unfathomable to any other human. When he did it, though, Castiel promised that he'd ultimately save Sam from the trauma.

Don't hold your breath for Castiel to make good on that promise, though. "No, he wants Sam to suffer for a while," Collins says. "Sam's basically f***ed."

Castiel's treatment of Sam isn't going to fly with Dean, and though Collins tells us that there's always hope that the relationship can be repaired, we shouldn't expect an easy fix. The former friends won't come to a resolution in Collins' first two episodes, and should he return later, there's no telling whether amends will be made. "There's as big a rift as you can possibly imagine between the two characters," he says. "Honestly, I don't know where it's going to go."

At San Diego Comic-Con, executive producer Sera Gamble told us that when we see Castiel in Season 7, he's dealing with a great deal of power and a great deal of rage. "Cas went looking for his father and his father never showed up for him. He's furious about that," she says. "He feels like everything that has come after for him has come after because he had to do everything. He's kind of like that latchkey kid who had to take care of the kids and take care of the kids and take care of the kids, because Dad never came home, so there is this sort of resentment. But if you're not God, you're not God. There's a reason God is God, we discover, over the course of this storyline."

For Collins' part, he hopes that ultimately we'll see the character redeemed. "I've grown affectionate for him and developed an affinity for him over the years, and of course, I probably identify with him more than anyone. I definitely want him to be redeemed. I love him; of course I want to see that."